DOI: https://doi.org/10.59350/rsn20-x8v39
Guest post by Marina Mohd Hamdan, West Virginia University
Being a first-year graduate student starting at the beginning of the COVID-19 pandemic was quite a challenge, especially in gathering data and conducting fieldwork. Without the proper credentials, experience and not to mention the lengthy IRB process, trying to complete a master's thesis within a certain timeframe left me with minimal choices when deciding on research methods. I was very interested in studying human and sex trafficking but quickly realized the number of obstacles I would face in an attempt to access human subjects in my field. Not only that, I was still trying to figure out my research interests and refining them based on what I could realistically achieve.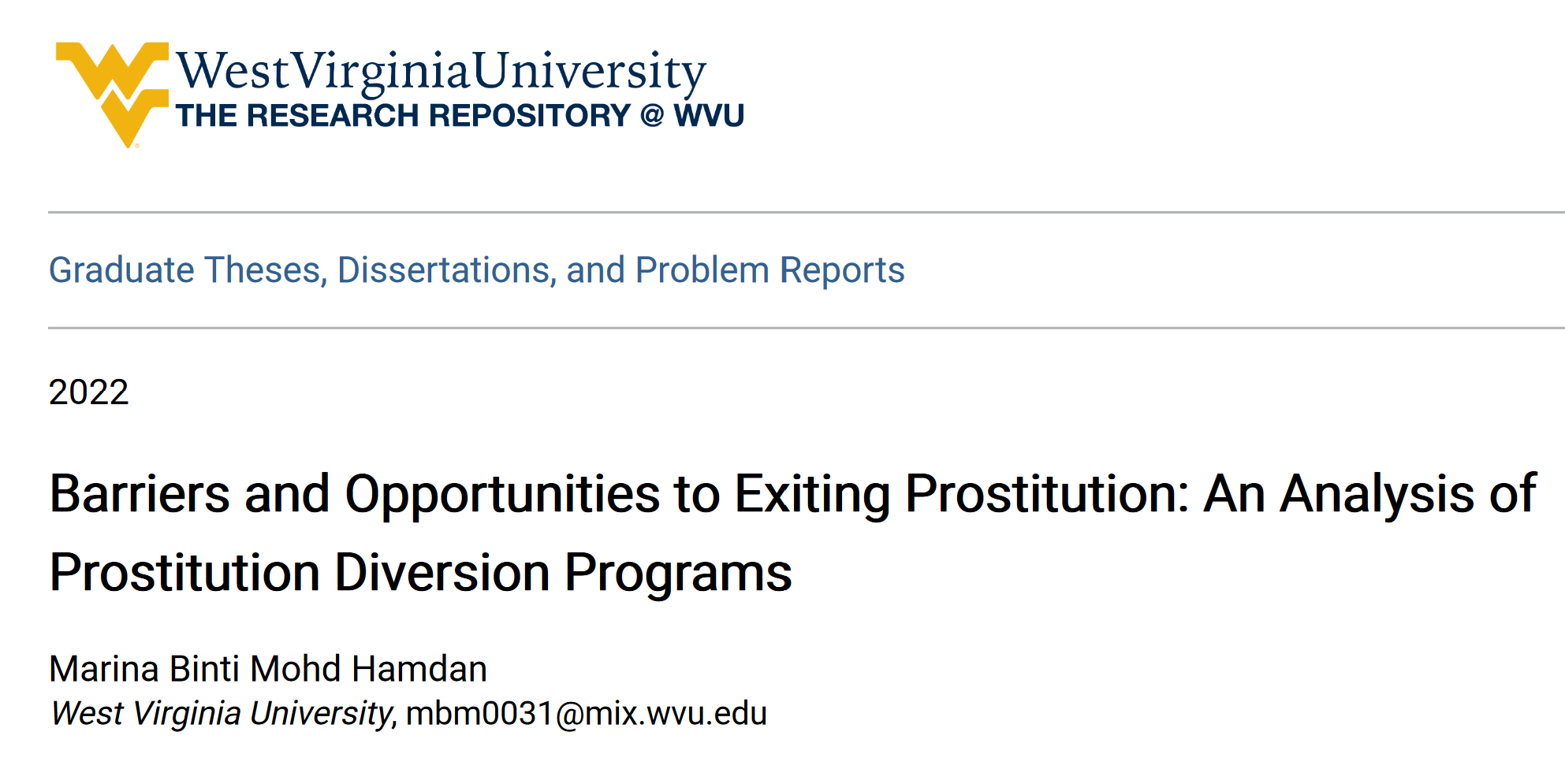 My advisor always said, "A good thesis is a done thesis." With that in mind, I narrowed my research to secondary data due to the sensitivity of my research interests and the fact that the subjects were classified as a protected population; women in prostitution. Although secondary qualitative data is rarely used, I found it extremely useful in my work as I would not have been able to obtain such descriptive and nuanced data on my own. Additionally, I was (and still am) a learner trying to find my bearings in academia, which can be quite daunting. Only equipped with quantitative training at the time, I was determined to find my way in the qualitative world.
Through a simple Google search on exiting prostitution, I was led to the QDR database, where I found Corey Shdaimah's work – her interview transcripts –in my top searches. Access to the data was restricted, so I reached out to her and QDR to ask for permission. From the moment I sent a request, I barely had to wait until I was granted access, given that I provided a CITI certification as a prerequisite. I found the entire process swift and efficient, and the website is user-friendly. Shdaimah has graciously given me access to her qualitative data from her longitudinal research on prostitution diversion programs. Although the data I obtained was only a part of a much larger pilot study, I found it to be rich in content. It provided me with descriptive insights into the lives of women who are in the process of exiting prostitution through the criminal justice system.
Using thematic analysis, I classified the data into three parts – substance abuse treatment, social support, and circumstantial support. I identified the barriers to exiting prostitution that women face and the opportunities available to overcome hardships by looking at significant turning points that affect their sobriety and the likelihood of recidivism. My findings include the effectiveness of prostitution diversion programs, limitations regarding substance abuse treatment, and the significance of trauma-informed and gender-specific social and circumstantial support in preventing recidivism.
This approach provided great scaffolding for my thesis. It gave me a deep understanding of the fieldwork I aspire to be in, allowing me to dip my toes. Thanks to the invaluable resource I was given, I could finish my thesis and graduate with a master's in sociology earlier this year. As I progressed towards my doctoral degree, I explored many other things the QDR database had to offer, including the works of others. Although I may not be able to upload my own qualitative data just yet, looking through the existing content that is constantly updated further motivates me to get to that point in my academic career. Utilizing secondary qualitative data as a stepping stone has proven beneficial for me as an author and researcher. When human contact is severely limited, one must be creative with what is available and use resources as best as possible.
By
skarcher@syr.edu
on
Wed, 06/29/2022 - 09:05